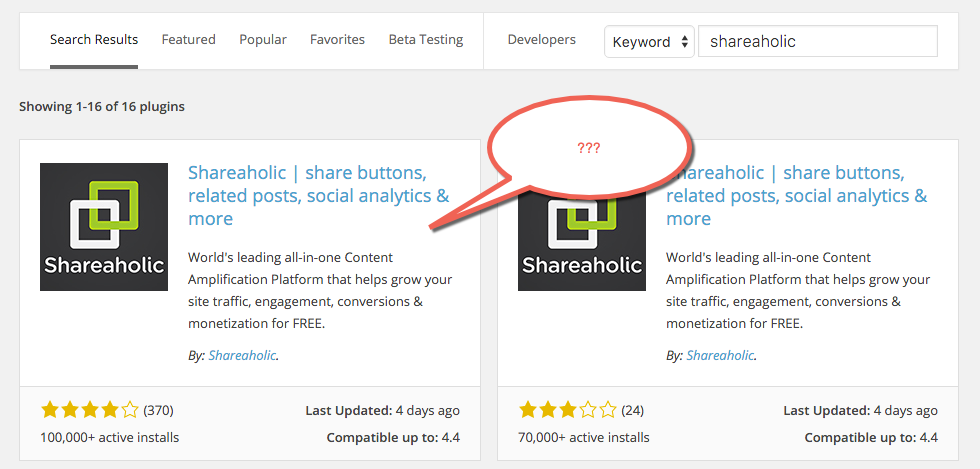 The Shareaholic WordPress plugin was initially called "SexyBookmarks". This was a very very long time ago.
We discovered, the word "sexy" in the plugin URL slug gets blocked by certain corporate networks and ISP's in certain countries, so we requested WordPress Admin's to switch the URL slug from "sexybookmarks" to "shareaholic" in order to fix this. Shareaholic is also the name of our company, so it made a lot of sense. But we learned that this is not possible... and the only thing for us to do is to create a new plugin repository under "shareaholic". So that is what we did...
The WordPress plugin that you want is: https://wordpress.org/plugins/shareaholic/
Note: All sites on the SexyBookmarks plugin must upgrade to the official Shareaholic WordPress plugin ASAP, as the SexyBookmarks plugin is no longer actively maintained. The Shareaholic plugin is just so much better. These upgrade instructions will walk you through seamlessly updating your SexyBookmarks WordPress plugin to the latest Shareaholic WordPress plugin without losing any of your settings! This is a quick and easy process that should take less than 5 minutes of your time, and you can rest assured that all of your customizations and site settings will be carried over!