With Shareaholic for WordPress version 7.4.0.0+ (Update now!) WordPress can display share counts for additional services (listed below) using our Server Side Share Count feature. By integrating official share count APIs and server-side APIs provided by Facebook, Pinterest, Google+, etc, we are able to display incredibly accurate share counts for your content and offer share counts for even more services.
Not a WordPress user? Learn about how Share Counts work for other platforms here. 
Which services display share counts?
Facebook
LinkedIn
Google Plus
Pinterest
Buffer
Stumbleupon
Reddit
vk
odnoklassniki
Fancy
Yummly
(The most up to date list can be found here)
If share counts are not showing for some/all services
First, check to see that the Server Side Share Count API is Reachable: Click on Advanced Settings under the Shareaholic heading in the left menu.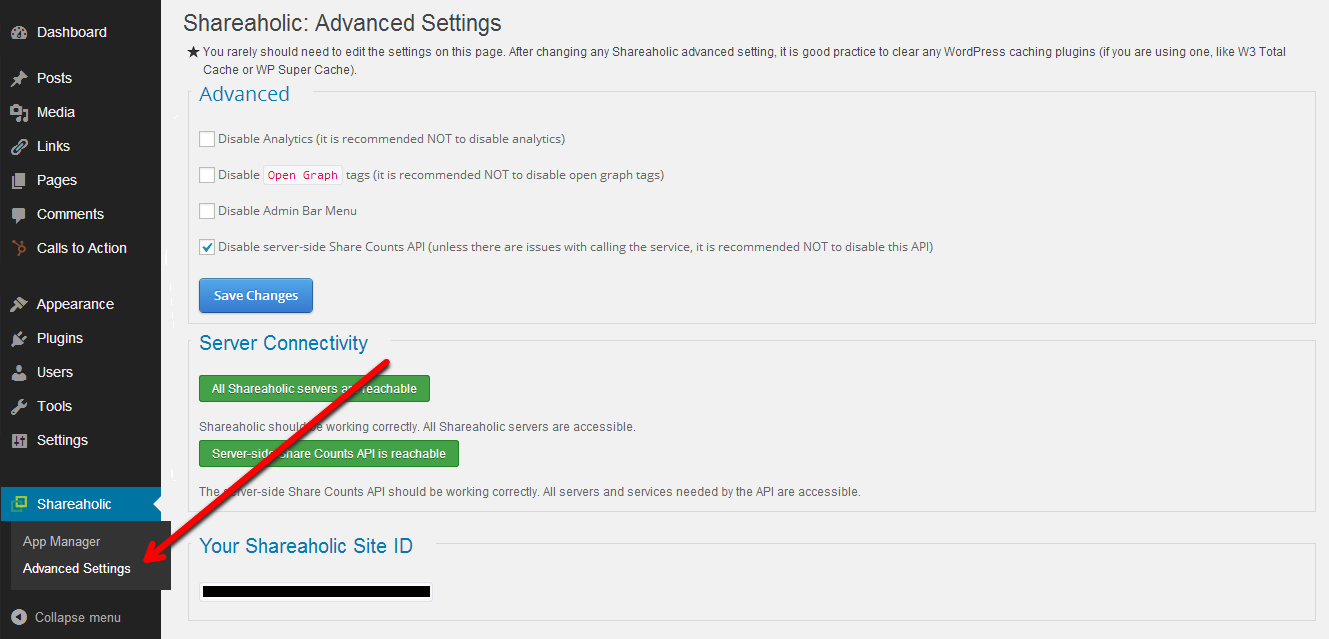 Under "Server Connectivity" check what the status reads then follow corresponding instructions below. 
"Unable to reach the server-side Share Count API"
Click the "Recheck" button every few minutes to see if it resolves itself.

If that does not resolve the problem, Contact Us. It's most likely a firewall problem that we can help you fix!
Server-side Share Count API is reachable but share counts still aren't showing
Is the Server-side Share Count API disabled?

This feature is on by default, but to confirm that it is enabled to show share counts, go to Advanced Settings and make sure that "Disable server-side Share Counts API" is NOT checked-off.


Did you recently change your URLs?

We retrieve share counts based on URL, so if you alter your url/permalink structure in any way, the share counts collected on the old format will no longer show. For example:

One of your blog posts is titled "10 Ways to Improve your Social Media Standing" and has the URL: http://www.mywebsite.com/10-ways-to-improve-your-social-media-standing

But you change the post title to "12 Ways to Improve your Social Media Standing", which in turn changes the URL to http://www.mywebsite.com/12-ways-to-improve-your-social-media-standing.

Because the URL has been changed, the share count will start from zero as if this is an entirely new post.


Verify your share counts

We retrieve share count data directly from each service's API. To confirm that they are sending us correct information, you can use the url below to directly review the data from these services. 

Check your share counts now!

If the share count results shown above are also 0 for any services, there could be an issue where your server firewall is blocking requests to Pinterest, Google+, etc. To troubleshoot firewall issues, check out this help doc. Ensure that your server is not blocking requests to Pinterest.com, Google.com, etc.

In some cases, the issue lies with the services API and the data they are sending us. If you've confirmed that your firewall settings are not blocking share counts, you may wish to contact the individual help centers for those services to troubleshoot. 
Help, share counts still aren't showing
Contact Us and include your website url, and we will help you out!