Shareaholic's Share Count Recovery feature is available for site profiles part of a Pro subscription. Learn more about our Pro plans.
We all know how important it is to display share counts for your content to establish social proof and credibility. It makes a HUGE difference to boost visitor confidence.
But what if you need to move your blog to a new domain name or more likely, move from HTTP to secure HTTPS (Google is pushing for a shift to SSL, there is no secret in this), you may notice that all your Share Counts for your content disappear as soon as you make the move…
This is because, when a site changes its URL pattern, the sharing destinations (like Facebook, Pinterest, and Google+) consider the new URLs as brand new pages and they typically track and report share counts separately for each URL pattern.
… and you're left asking yourself how do I recover my share counts and all that hard earned social proof you worked so hard for over months and years?! This can be incredibly frustrating. It is not a pleasant situation at all. So, what is one to do?
Fortunately, thanks to Shareaholic, you can now switch to HTTPS and keep your Social Share Counts. You can even switch your domain (ex. moving from free.wordpress.com to customdomain.com, or www.name.com to just the domain name.com) and keep all your social share counts!
Shareaholic's new Share Count Recovery feature now enables you to recover any missing shares that may have been lost in the URL change. Once the Share Count Recovery feature is active, Shareaholic will begin to fetch share counts for both URL's, add them together and display the combined total. Voilà – all your hard work and social proof will, again, be fully accounted for.
Note: You do not need to have had Shareaholic installed before your domain or SSL switch. Share Count Recovery should work on any site at any time and activates immediately. So, switch now and recover your valuable share counts.
Recover your Share Counts when:
 
Scenario
Example
1.
SSL migration
http ⟹ https (ssl)
2.
Domain name migration
olddomain.com ⟹ newdomain.com
3.
Sub-domain to domain migration
free.wordpress.com ⟹ customdomain.com
4.
Domain to sub-domain migration
domain.com ⟹ blog.domain.com
5.
Sub-domain to sub-domain migration

www.domain.com ⟹ domain.com
blog.domain.com ⟹ newblog.domain.com 
How to Enable Share Count Recovery
1. Login to your Shareaholic account and select your site from the My Sites dropdown on the top of the page.
Note: Share Count Recovery is currently available to site profiles that are on a Pro subscription plan. If you are a Personal plan subscriber with multiple site profiles in your account, the Share Count Recovery feature will be available for the site profile for which the Pro plan is active.
2. Click on Settings on the left-hand side of the page.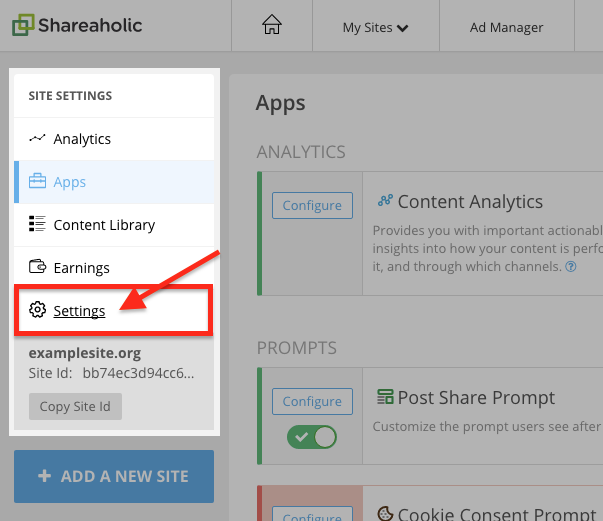 3. Select the Sharing tab, and then click on Share Counts.

4. If you have recently, or are about to move your site from HTTP to HTTPS, click on the first toggle button next to Combine HTTP & HTTPS Protocols.

If you've changed your base domain (for example, moved from 'mysite.org' to 'mysite.com'), click the toggle button next to Combine Previous Base Domain and enter your old base domain.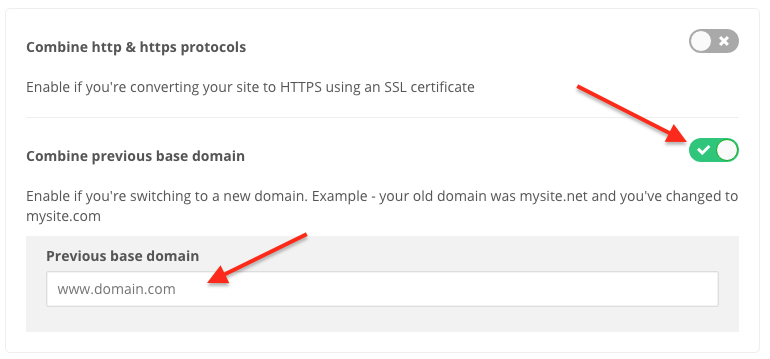 5. Click 'Save Changes' and voilà - all your hard work and social proof will, again, be fully accounted for!