From time to time, you might need to delete a Site Profile that is a duplicate or that you no longer use. It's easy to get those deleted, just follow these few steps below.
Note: Before proceeding, make sure you are not deleting a site you may still need.  At the bottom of this article there is additional information to help you understand when this might be the case. 
Log into your Shareaholic.com account
First, look in the "My Sites" menu on top of Shareaholic.com to find the S thatite Profile you want to remove.  Either click directly to the site if it appears in the drop-down menu, or click "View All Sites" if you have a large number of sites you need to choose from.


Once you select the correct Site Profile, you should see the "Apps" page.  Click the Settings link on the sidebar for the Site Profile you want to delete:

On the settings page click the red Remove Site Profile button to delete the Site Profile:

Once you click "I understand the consequences, remove this site profile" to confirm you want to delete the Site Profile, you'll be done!

For WordPress and Drupal Plugin Users
To delete Site Profiles linked to your WordPress or Drupal plugin, simply delete the respective plugins using your WordPress or Drupal Admin Console and the site profile should get automatically deleted from your dashboard on Shareaholic.com.
In some cases, if the plugin cannot communicate with Shareaholic servers, the automatic deletion process can fail. If this happens to you, please contact us with the Site Profile ID and we can delete it for you.
Be Careful!
Be careful that you do not accidentally delete a Site Profile that is still actively being used.
Every Site Profile has a unique Site Profile ID associated with it. If you've installed the Shareaholic Install Code on your website, one of these unique Site Profile IDs will be embedded as part of your Shareaholic code.
If you delete a Site Profile ID but it's still installed on your website, you will no longer be able to edit settings for the Site Profile. If this happens you would need to create a new Site Profile ID by adding creating a new Site Profile to your Shareaholic account, and then re-installing the new Site Profile ID on your website.
When looking at your Site Profile list on Shareaholic.com, you can find the Site Profile ID associated with each of your Site Profiles. Here is an example Site Profile ID from the "My Sites" Menu: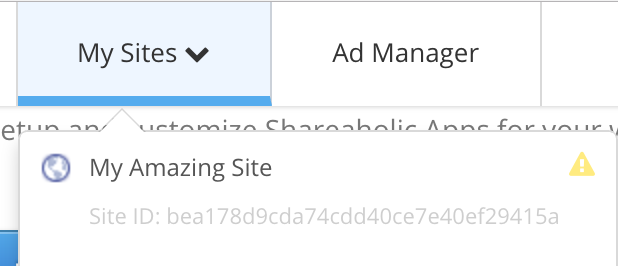 To check which Site Profile ID is actively installed on your website, you'll find the Site Profile ID in the source code of your website. This article goes through how to find the installed Site Profile ID on your website.
Unless you are sure that you want to remove Shareaholic and/or reinstall and start over, do not delete a Site Profile if the Site Profile ID is still installed on your website.