If you're seeing deleted or excluded pages showing up in the Related Content app or Content Library, or content with otherwise out-dated information, you may need to rebuild the content index. This means that we will 'rescrape' your site for updated information, rebuilding your Content Library (and content included in the Related Content app).
1. Login to your Shareaholic.com account and navigate to the Content Library page for your site.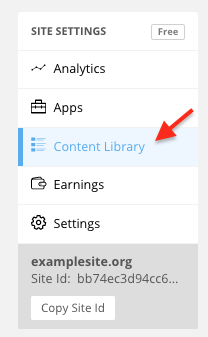 2. Scroll down to the bottom of the Content Library page, where you will see a button that says "Rebuild Content Index." Click this button to rebuild the content index.

Please note: This process can take a few hours to complete, so don't be alarmed if things don't immediately appear fixed. We also recommend only running this process "after-hours" if at all possible. If it's been over 24 hours and you're still seeing the same wrong/out-dated information, please contact us and we'll be happy to take a look for you!
If you're having trouble with your thumbnail images showing up in the Content Library or the Related Content app, please make sure you have correctly set the image meta tags for these pages. There's some information on how to set the thumbnails here.