Shareaholic's Team Management feature has three default roles: Owner, Admin, and Member. Each of these default roles has their own default Permissions settings, which can be changed or adjusted at any time.
This article will give a brief overview of the different roles and Permissions settings, as well as how to change the permissions of any given role. role of team member.
Note: In order to create a team, you must have an active Shareaholic Pro Business Plan subscription applied to the site in question. To learn more about Shareaholic Pro Plans and how to sign up, check out this article here.
About Team Permissions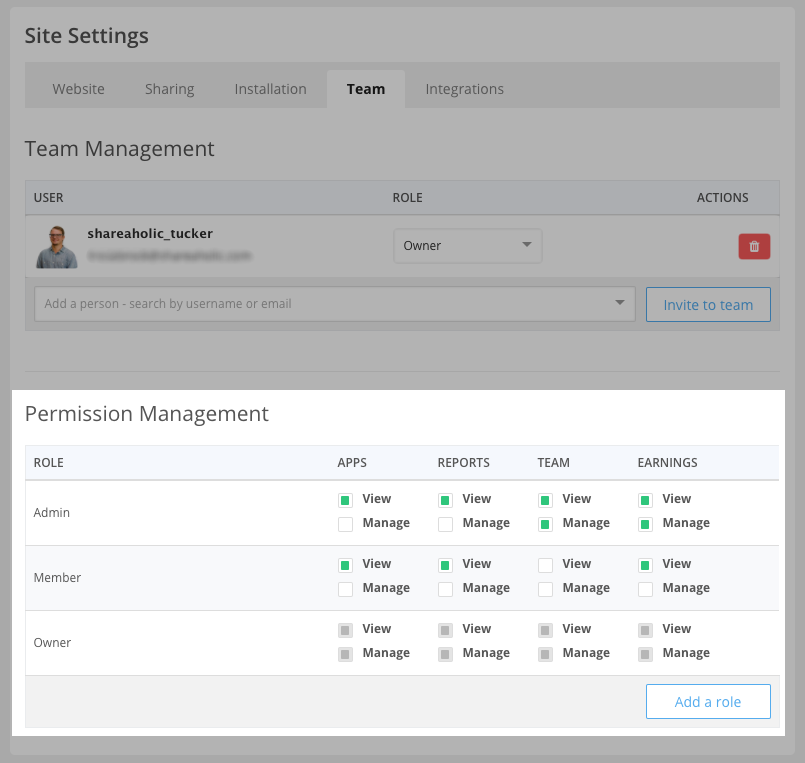 There are four Permissions Categories: Apps, Reports, Team, and Earnings, each of which refers to a different aspect of your Shareaholic site settings and data. 
Apps

refers to your Shareaholic Apps dashboard, where settings for all Shareaholic apps, including Share Buttons, Related & Promoted Content, and Website Monetization Settings, are located. 

Reports refers to all data included in the Analytics section, as well as the Content Library section.
Team refers to the Team Management Dashboard.
Earnings refers to the site's Earnings section, and all information located therein.
A member can be granted manage or view permissions for each of these categories.
Members with manage permissions to any category can make changes to that section's settings, while members with view permissions can only see that section's settings, but not make any changes. Members with neither manage nor view permissions will not be able to access those sections of the site at all.
To change the view/manage permissions of any role, simply click on the checkboxes next to 'View' or 'Manage' under the Category in the role's row. 
Please note: it is impossible for members to be granted 'manage' permission without also being granted 'view' permission, so selecting/deselecting 'manage' will also automatically select/deselect 'view' for that category.